The belief that music is powerful is an understatement.
We are all taken captive by music on a day-to-day basis, whether it's getting goosebumps when our favorite song comes on or when we hear a song that sparks a specific memory. Many don't know the impact that music has on those with severe disorders, such as autism.
We've put together the benefits of music therapy for people on the autism spectrum.
For decades, scientists have been studying the effects of music on the brain. They have made advancements in therapy programs such as music therapy, which relies solely on treating patients through music. The correlation of music therapy on people with autism is astonishing.
Autism is the fastest-growing developmental disorder in the United States, affecting 1 in every 68 kids. In fact, the prevalence of autism in young children has increased by 119.4% from 2000-2010.
Although autism is not curable, many believe treatments such as music therapy can help patients adapt and increase skill development.
One of the many impacts that music therapy has on autism patients is that music stimulates the use of both hemispheres of the brain. This increases cognitive thinking, something that autism patients have difficulty with. Music therapy helps increase their learning capabilities and creates a positive learning environment.
Ever wonder where those goosebumps came from when listening to music? That's caused by dopamine. Music releases dopamine in the brain, the chemical triggering happiness and love. The increase of dopamine in the brain of patients with autism can help them battle depression, a characteristic found in autism patients. Autism patients also struggle with communicating, as well as anxiety.
Music therapy gives autism patients a means to communicate and express themselves non-verbally.
Lastly, music is fun! Everyone remembers how fun it was in grade school going to music class and singing or banging as hard as you could on the xylophone. Starting young patients with autism in music therapy can help them get over social interaction problems early on by putting them in a group setting doing something fun!
It's amazing what music can do, especially those with autism and other developmental disorders. To those impacted by autism, music therapy is a great way to help treat it and overcome some of the debilitations that autism can cause.
For the month of April, 10% of proceeds from any of our Design services will be going to Autism Speaks and a local school here in Wesley Chapel, FL. Help enhance lives today and accelerate a spectrum of solutions for tomorrow!
---
Check out our infographic of the Benefits of Music Therapy for Autism.
Feel free to share!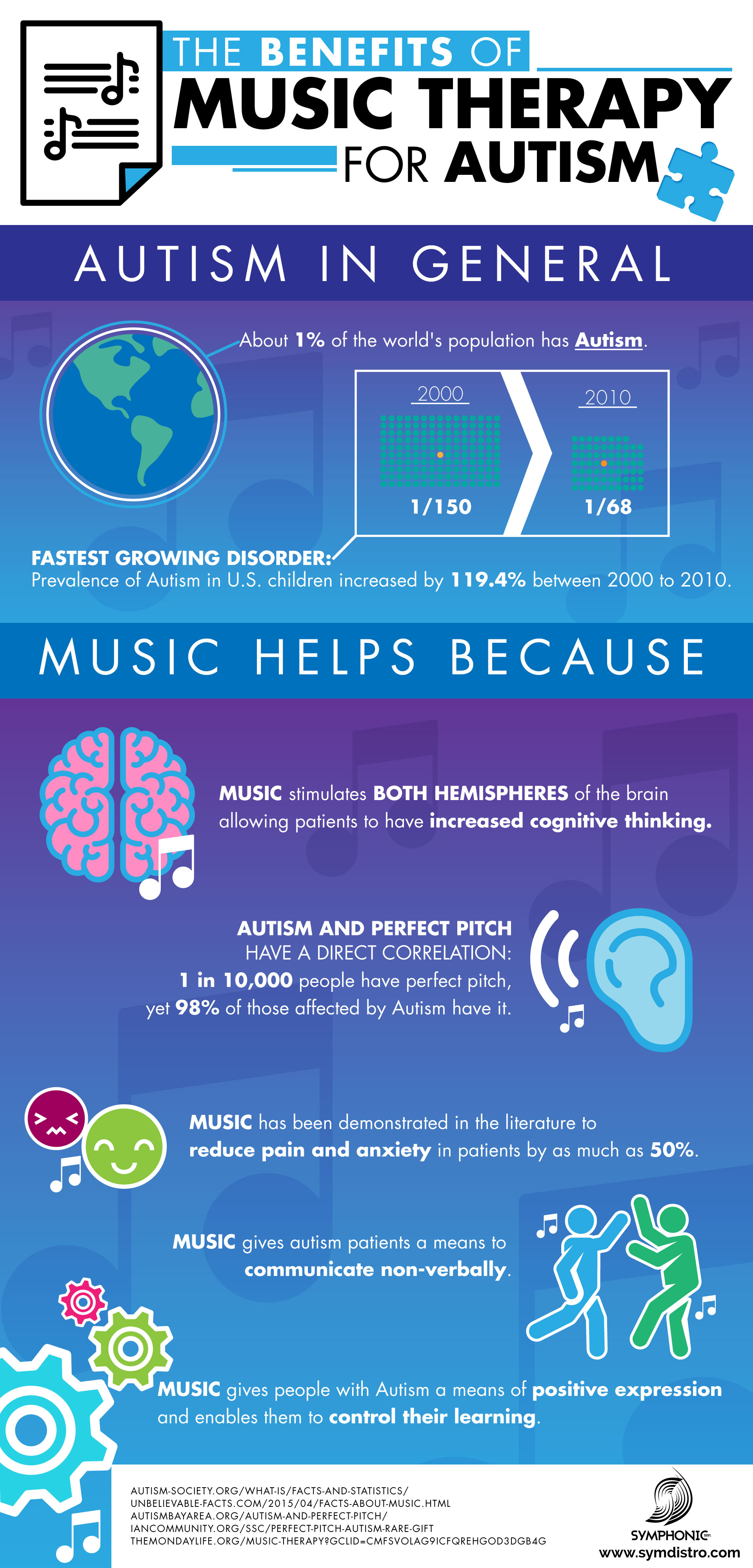 ---
References //
CDC
Music Therapy for Children with Autism

Other Stories You May Like