Advertising? On Snapchat? Well, believe it or not, these two can actually go hand in hand! The social media platform offers a multitude of advertising opportunities for independent musicians to take advantage of. From free promotion to paid options, there are several ways to use the platform as an avenue for advertising as a musician.
Here are some tips on utilizing Snapchat Ads as an independent musician to connect with new fans!
About Snapchat Ads
Snapchat Ads are curated to help you make an impression on a large audience with engaging ad formats and seamless integration in fast and fun results on mobile. With 187 million average daily active Snapchatters, there is a large audience ready to hear your music.
Perks of Snapchat Ad Manager
Snapchat's Ad Manager offers insights and abilities to help you get the most out of your advertising experience.
Select an audience, measure your results, design filters and more with Snapchat's ad platform. With the platform, you can drive users to your Snapchat, website, SoundCloud, Spotify page, newsletter sign-up and more.
Snapchat Partners
Snapchat offers an array of different partners to help you get more out of your ad experience. Digital advertising agencies, content creation platforms and more are available to you. For artists with a sufficient marketing budget, or a large-scale campaign, teaming up with a partner might be an appropriate step to increase your ad potential.
Getting Started
You're ready to go. What next? You'll want to visit ads.snapchat.com on your desktop browser. You'll be prompted to create a business account, and then options for creating your very first ad will instantly become available.
Choose from:
Snap Ad, Story Ad or Filter. 
Hover over each individual ad type to see what each one entails.

From there, you can design your ad and select your audience.
Make sure your audience is relevant to your content.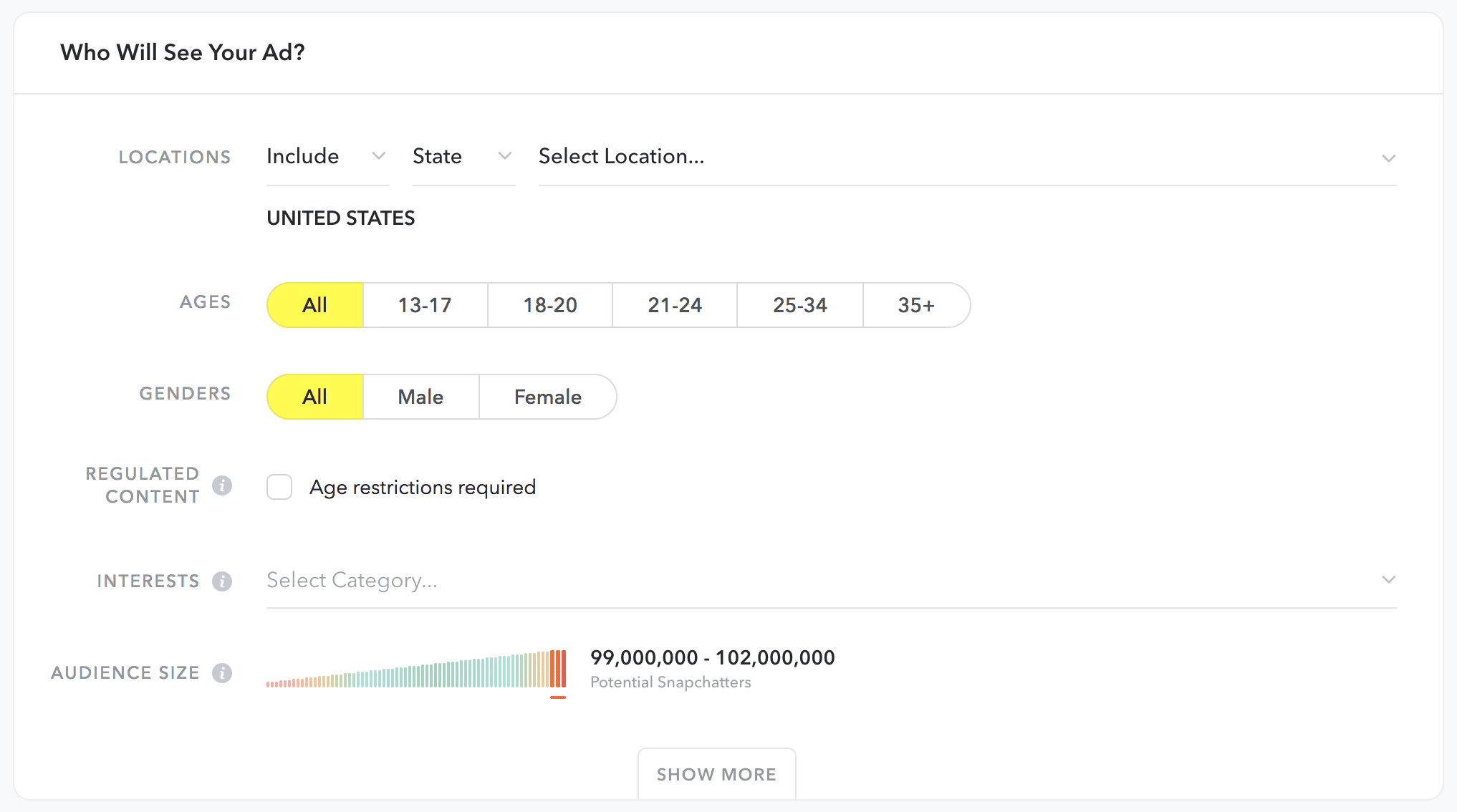 From there, you can select your duration and budget. Once you finalize your Ad, you can go ahead and select it to begin immediately or on a specific date. Then, you're done! Make sure your ad is set up properly and efficiently, and then go ahead and click 'Create Ad' to put everything into action.
Everyone's Snapchat Ad experience will be different, but as long as you tailor your ad to your audience and content, then you have the potential to reach a major audience. Good luck!

Other Stories You May Like