Beatport provides the global DJ community access to a vast catalogue of high quality digital music from the industry's leading artists and labels. Want to sell more music on Beatport? You've come to the right post. Here are some tips, tricks, and useful tools for selling your music on Beatport…
Tips and Tools: Selling Your Music on Beatport
Perfect your Artist Page
Having a photo and a short text biography is a great way to establish a presence at these platforms and like DJ Charts, it shows the platform that an artist is active and engaged on the platform.
Unlike the streaming platforms, the dance specialists largely do not allow Artists to 'claim' their Artist pages and add any assets. All of them require particular specifications for photos and any short biography text.
For information on this process and photo/bio specs for the particular platform, please create a Support request via the Help tab on your account dashboard. Then, one of our specialists will respond to your inquiry as soon as possible.
Preorders
Pre-orders can be an important part of a strategy for the dance specialist partners. They can be shared ahead of the release, added to pre-save and smart link campaigns, and used in promotional posts on socials.
For example, you can set a release for preorder 28 days in advance of your release date (or exclusive date, as appropriate). Those pre-sales will factor into your release or a specific track's first week chart eligibility. If you opt to set a release for pre-order, we recommend you do so at least two weeks prior.
Including pre-orders in DJ Charts (a major sales booster which we'll talk about next) and a pre-order link under SoundCloud snippets is a great way to boost early sales.
Get on DJ Charts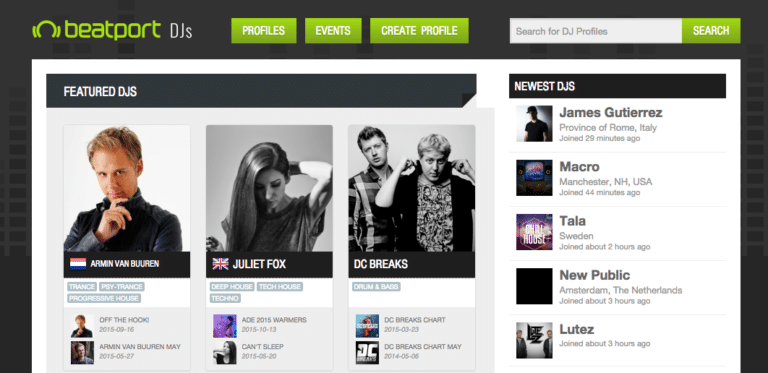 The DJ Charts page is where you can get in front of the world's largest audience of dance music fans with your own URL and custom page. The biggest DJs, labels, artists, and venues all over the world are already promoting themselves by creating Beatport DJ Charts, posting gigs, and sharing their Soundcloud and YouTube accounts. In order to create a DJ Chart you must have music being sold on Beatport profile then create a DJ Chart via a DJ profile. If you already have an established DJ profile, or are using one of your artists' DJ profiles, create a chart by logging into that user account.
If you're creating an account for the first time, you'll be required to set up a new DJ profile. You can follow the steps when you click on the following link: https://www.beatport.com/dj/charts/new
Before creating your chart, read up below on how to populate them…
There are three main ways to find music for your chart via:
This means before creating your chart you can browse the site, and add music you like to your Shopping Cart. These can then be selected to populate a DJ chart. You'll also be able to add tracks from your previous purchases. — In the chart view, you can drag and drop, remove, and even preview tracks until you are content with your selection.
——–
Sharpen your skills…
Useful Tools to Generate More Income As A Producer
5 Ways To Make More Money Off Your Songs
Types of Publishing Deals and How They Work
Introducing Symphonic for Production
——–
Label Playlists
Label playlists are a great way to promote your music and revive your back catalog on platforms such as Beatport LINK. LINK is Beatport's subscription B2B streaming platform that integrates with a variety of DJ hardware and software such as Pioneer Rekordbox and others. Approximately 80% of LINK subscribers are brand new users to Beatport, so this is a great tool to present your music to new fans.
Stay on top of Exclusive Release Dates
Various dance specialist partners, including Beatport, allow for Labels to select exclusive release dates so a release can be exclusively available for sale at their platform for a specific period of time, with options of two (2) weeks, four (4) or eight (8) weeks. This means no other download store can have the release, except streaming partners (i.e. Spotify).
How does this help? // This can be to a Label's benefit as Exclusive releases are priced higher, giving a boost in income both from the higher price point as well as a higher income split during the exclusive period.
In addition, opting to make a release exclusive to a specific dance specialist platform can definitely have some influence on the platform's Curation team for placement. However, keep in mind that choosing an exclusive does not guarantee your release will be selected for placement.
Offer Sample Packs with Symphonic for Production
If you're interested in making royalty free sample packs available through our Symphonic for Production platform, please create a request via the Help tab on your account dashboard, and one of our specialists will respond to your inquiry and help you get started.
Submit New Releases On-Time
While Symphonic can get new releases processed, delivered to our partners, and live in a matter of business days, if this is a priority release where you are looking to secure feature placement, please make sure your release is delivered to us with sufficient time to do so.
Ideally we like to have 4 to 6 weeks or more in advance of your release date (or exclusive date, if applicable) for high priority releases where placement and playlisting across streaming, download and dance specialist partners is the goal.
A minimum of 3 to 4 weeks is sufficient enough lead time for dance specialist partner focused releases (i.e. Beatport, Traxsource, Junodownload, etc).
We recommend that our dance specialist focused label clients release on Fridays as this is the new global release date worldwide. This also allows for consideration across various marketing features and in-house curated charts/playlists with some dance specialists stores such as Traxsource's Weekend Weapons and Beatport's Weekend Picks and Best of charts.
Beatport Hype
Beatport Hype
is an accelerator program with more visibility opportunities to grow your label by giving you an exclusive space alongside eligible labels. For a monthly fee of $10, this program groups your label into a pool of labels of a similar profile and revenue level (earning less than $15,000.00 in a 365 day period), offering access to placement and chart visibility among developing labels, free from competition from the larger labels and brands that dominate the platform's merchandising and charts.
Benefits:
Opportunity to increase your sales and Beatport followers.
The chance to enter the dedicated Beatport Hype Top 100 charts if enough sales are generated.
Opportunities for additional features in dedicated Beatport Hype sections of the store.
Additional social media campaigns such as "Hype Label of the Month".
Notifications via email when your releases are featured in our Hype sections.
Opportunities for Hype label showcase streams on Beatport's Twitch channel. 
Please bear in mind that while Beatport Hype is a great promotional tool for up-and-coming labels, it does not guarantee store features. However, Symphonic feels strongly about this program and its ability to help labels grow their brand and drive revenue at Beatport. // Click here to register for this program. 
You got this! 🔥

Other Stories You May Like