SoundCloud is one of the most powerful sites for independent artists looking to connect with the music community and share their stuff on their own terms. Unfortunately, many artists and record labels forget to follow some of their best practices in order to get the most out of the platform. Here's how to maximize your profile…
How To Maximize Your SoundCloud Profile
Profile Images
You can add or change your profile image either directly on your profile page, or through your profile edit page using your computer.
Scroll over the current image, and click 'Update image'.
From there, choose the file saved on your computer and click 'Save'.
Profile avatars are circular in order to differentiate from track and playlist artwork.
SoundCloud accepts any images up to 2mb in size. For the best results, they recommend uploading a .jpg or .png of at least 1000 pixels x 1000 pixels. Once you have selected an image to upload you have the option to drag the image left or right or to zoom in and out of the image in the circle.

You can also upload a Profile Header Image directly from your profile page.
For best results, upload JPG or PNG images of at least 2480 x 520 pixels with a 2MB size limit. (Please avoid using text within your Header Image as it will be cropped on smaller screens.)
Once you have selected an image to upload you have the option to drag the image up and down or to zoom in and out on the image. (If you do not have the ability to zoom, then this is because your image is less than 1240 x 260 pixels.)
Profile Name
Make sure your profile is as similar to (if not exactly) your artist name. To follow the best search engine practices, make sure that your name has spaces. For example, instead of our profile being named SymphonicDistribution, we named it Symphonic Distribution.
Google also likes repetition, so repeating your Display Name in your Profile URL will help you climb up the ladder on Google search results.
Social Media Links
Having social media links to your other networks is one of the best ways for fans to get to know you more. Not only does this allow your fans to connect with you, but you also get some of their sharing features to these networks once your profile is integrated.
They also recommend users take advantage of their profile and track descriptions to give an introduction about you and your work, tell a story, and to ask people to click the repost button if they like your content. Encouraging people to share your music will result in more shares and leads to more followers.
——
Sharpen your skills…
How To Make Money On SoundCloud
Social Media Image Sizes for 2022
The Artist Checklist to Advertising on Spotify
How To Boost Your Engagement On TikTok
——
Song Tagging
Tags help identify what kind of sound your track has (whether it is trap, deep house, rock, hip-hop, etc.). This makes it easier for your listeners to find it in SoundCloud's search results.  Make sure to use a main genre, but you can add and tag similar genres, artists, and even moods.
Track Description
Remember to add a short bio to your track that includes your social media links and especially a purchase link to the track. Here's a sample:
Name of Artist – Song Title (Official Video or Mix) 
▶ Merchandise:
▶ Subscribe:
▶ Download:
▶ Follow (Artist):
– Facebook:
– Twitter:
▶ For (Record Label) updates and future releases, be sure to follow us at:
– Facebook:
– Twitter:
– YouTube:
Spotlight
If you want to highlight one of your particularly noteworthy tracks you'd like others to enjoy first, you can use the Spotlight feature which comes with all Pro accounts.
Spotlight allows you to pin up to 5 items (either tracks or playlists) to the top of your profile page under the "All" tab. After your Spotlight selection, your most recent tracks and playlists are shown in reverse-chronological order.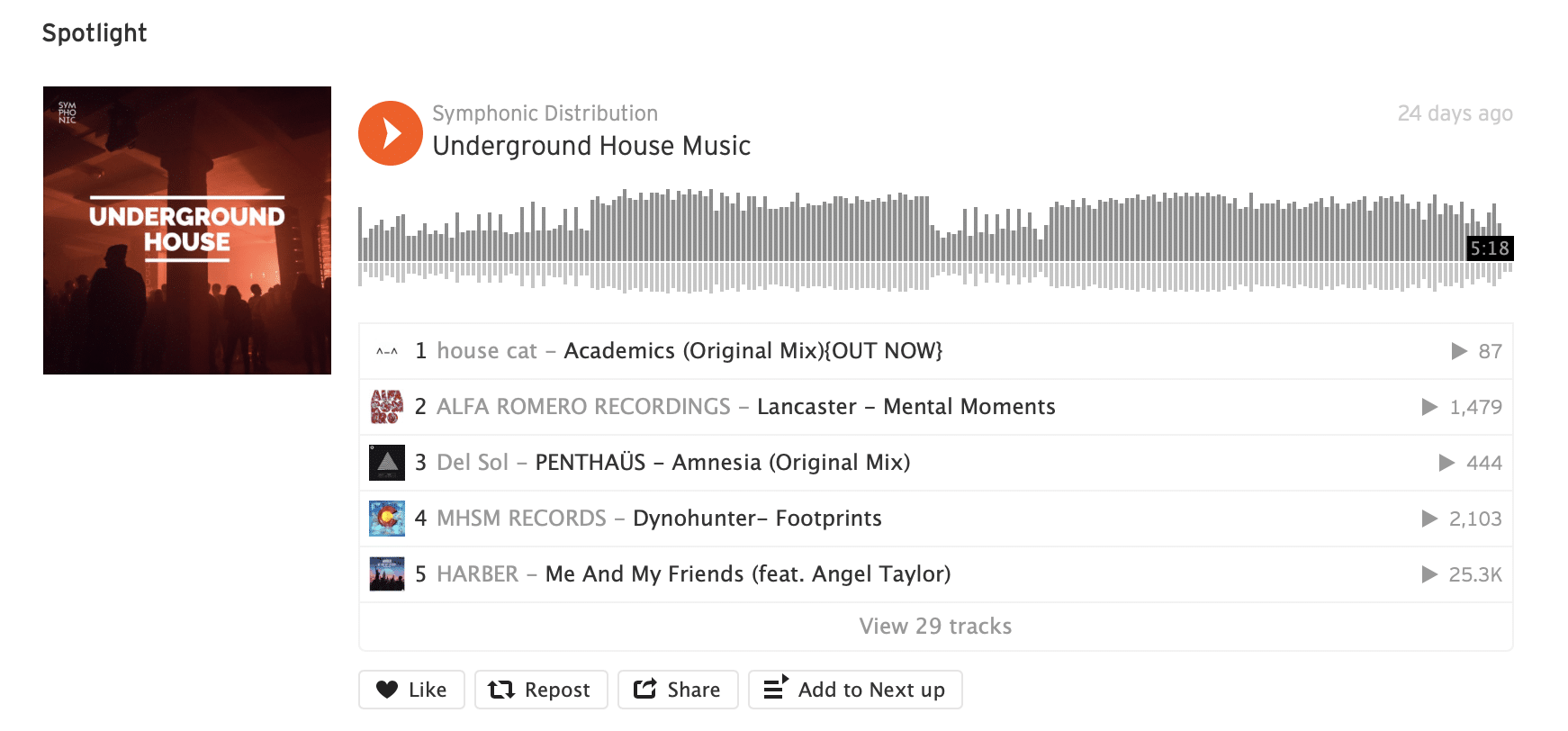 To add a track on your profile to your Spotlight selection:
click on the "Edit Spotlight" button at the top of your public profile.
You can then search for one of your tracks or playlists (within the latest 200 tracks and playlists on your profile) to highlight by typing in the title or selecting the track from the drop-down menu that will appear when you click into the Search box.
The drop-down menu will only show the latest 15 publicly available tracks or playlists uploaded to your account. Once you have your selected items added to your Spotlight, remember to click the "Save" button.
In Conclusion…
Posting on SoundCloud is only half the battle! Optimizing your profile is the only way to make sure you're getting the most from your efforts. Having clean profile, linked accounts, spotlights, and utilizing all the other features they have in store will help you gain more followers, engagement, and grow your community in no time.
Good luck!

Other Stories You May Like