Most professionals don't have to factor fan relationships or messaging into their work schedules. An architect who designs hotel interiors can have a fulfilling creative career, but doesn't have what you would call "fans." Sure, they have customers who would recommend them, but at what point would that person be considered a fan? And then if they were a fan, what would their behavior look like? What is the difference between a happy paying customer and a fan? In this post, Wayne Martin, Founder & Principal of mthree / martin music management, breaks down how to first identify and then communicate to the three very distinct categories of music fans who will fund your music career. Here's the rundown…
How To Identify And Communicate With 3 Distinct Types Of Music Fans
Here's the answer: fame + interactive experiences + revenue
An architect for hotel interiors, a landscape designer, a gaming software engineer, and a florist are all creative professionals. And they all work outside of the fan span because they aren't, by and large, public figures. It's really very unlikely that fame combined with an interactive experience with the general public might exist. Granted, a select few may acheive some level of notoriety and that may bring fans, but if we make a sweeping broad statement about those creators, we can say they aren't regularly in the public eye.
I'd like to share the distinction that pro athletes with tremendous fame also have fans, but if they are competent and capable and do their jobs well, their careers don't REQUIRE fans to get their paycheck and retain their employment for a long career.
But yours might.
Now, don't think it's lost on me that there are household names that are famous for being at the right place at the right time. We can still tip our hat to their fan span accomplishment, but as a burgeoning recording and/or touring artist, you're not quite there… yet.
There's a broad spectrum of topics regarding music fans, but I'd like to zero in on fan messaging and what that means to the different kinds of fans you might have.
The 3 Types of Fans
Did you know you will have three different kinds of fans? Throughout your career, you'll encounter what I call, SuperFans, Fans, and Casual Fans.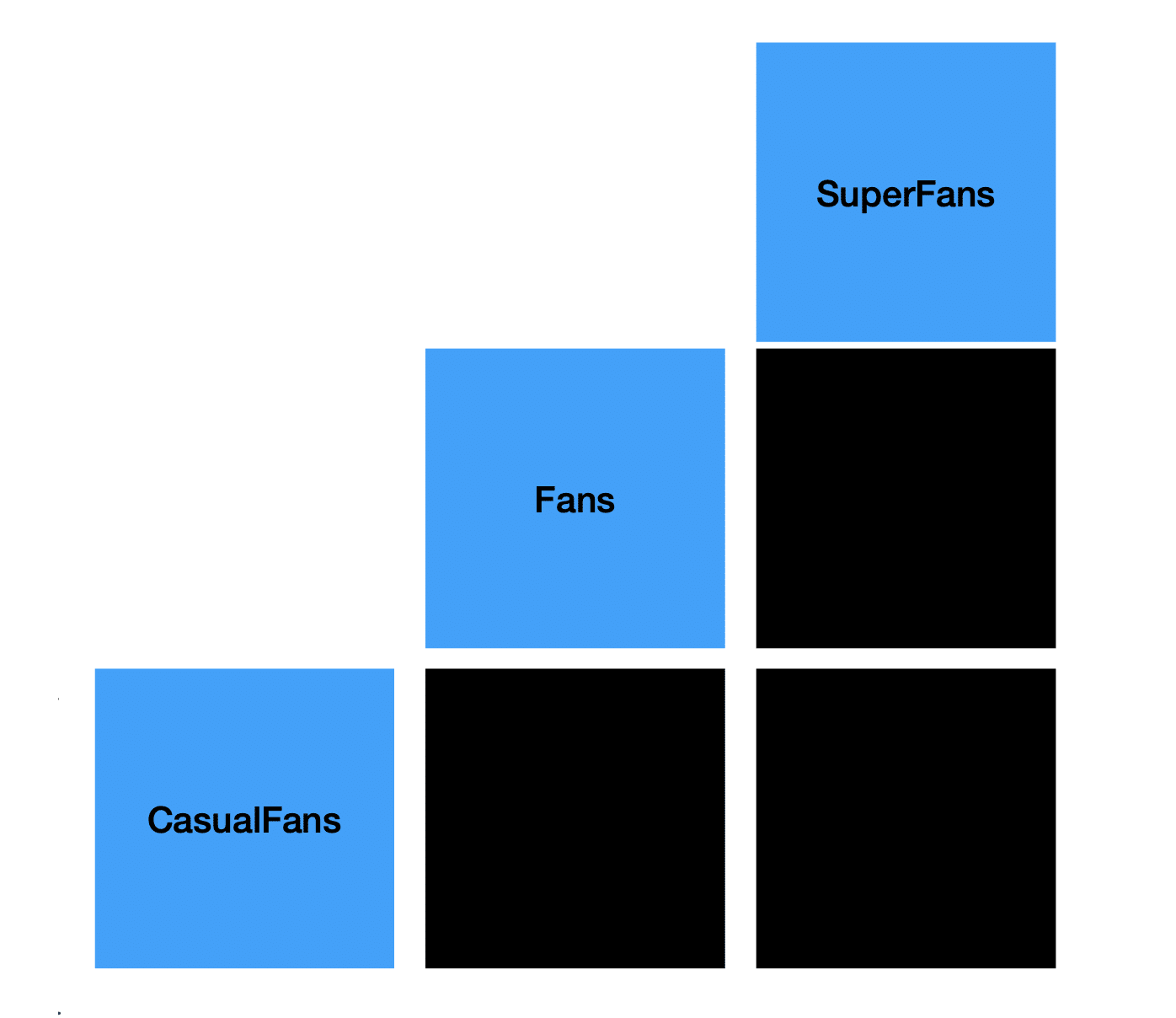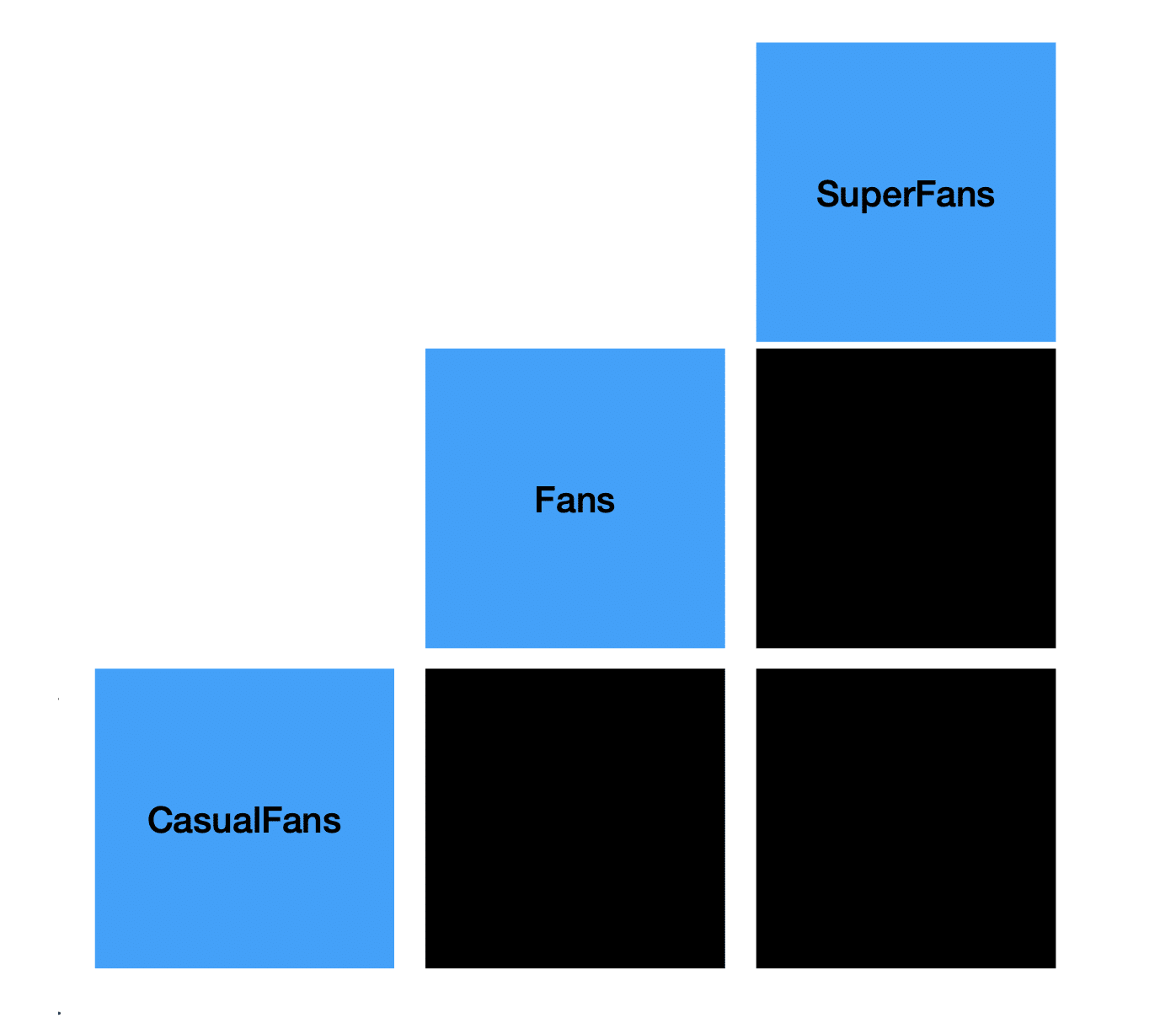 Your first stairstep is called CasualFan (Acquaintance Analogy). The CasualFan step will always hold more of your fans than any other bucket. That's important. Can you visualize a small stairstep with the word CasualFan on the first step?
Your second fan step is called Fan.
The SuperFan step is the ultimate destiny you hope all fans will achieve, and for the fans that do you want to keep them here as long as you can.
There was once a music publicist named Howard Bloom who oversaw public relations for some of the biggest names in music. (Prince, Michael Jackson, Billy Joel, Bob Marley, and Kiss to name a few.) So, Bloom once wrote:
"I used to tell my superstars that you don't just owe your audience your songs: you owe them your life. Why? Because others find themselves through you. Others make you an icon, a symbol that stands for something special, for some essential aspect of themselves."
There are several tasty bites we can pull out of that quote.
Fans are a result of audience. You can't have fame without fans, and you can't have fans without creating and cultivating an audience for your recordings and performances.
Bloom says that musicians owe their fans their songs and their lives because there is some essential inner connection to you as an artist – either they identify with you, which is what I think he was speaking to primarily – or your fans want to emulate you because they view you as special.
When he says that others find themselves through you as an artist, he opens up a conversation about the self-discovery that fans experience when artistic expression penetrates them – when what you do impacts them with something as simple as a feeling, or something as complex as a mood or a state of mind or an inspiration.
SuperFans
Does a teacher speak the same way to a kindergardener as he would a high school senior? They're both students, right? But a teacher might tailor choices wording, tone, sentence structure and speaking volume to approach a kindergardener very differently than a high school student. The SuperFan step is the ultimate destiny you hope all fans will achieve.
Sustainability and commercial success have little to do with professional critics and a lot to do with your everyman audience connecting with what you do, staying aware of what you do, and spending money on your creative output so that you can support yourseslf and invest in making more music and performances.
CasualFans
How would you speak to a CasualFan? Would you speak to them more carefully than someone who was already a huge fan of your work? Would you only select certain types of photos or words to draw them in further? It's a little like asking an acquaintance to take a leap of faith with you…. you can't force them to. You have to stimulate their curiosity and their interest.
Your CasualFan knows about you, but has no real attachment to you. They may recognize one of your songs, or the hook of a lyric; they could know your face but not your name or know your name but have no idea what song you sing. They are aware of you, and maybe they like you, but their connection to you is simply casual.
Developing this relationship will require a lot of messaging work on your part, and that includes repetitive reminders that you exist flooding into the CasualFan's daily life from sources that you control, like your own social media and streaming platforms, and others such as personal referrals, which you may never even learn of.
CasualFan behavior is that of someone who is curious, but not invested. They are aware of you. They have no internalized negative impression of you – only neutral or positive vibes towards who you are as an artist. So, no opinion or a good opinion, generally speaking. But not much action at all. That's your CasualFan. When you perform for an audience you've never before reached, chances are you'll create more CasualFans than anything else. And that's where your work begins. Your work is to convert them to fans.
It's your unique fingerprint that will make CasualFans become FANS (read that twice).
Fans
FANS (Friend Analogy) know who you are. They like and support you. For example, Fans spending money on your music is a probability, not a question – It's just a matter of how much and how often, and that is a wide spectrum. Fans are engaged. They want to hear from you. They want to know more. They are in fact, waiting on YOU.
No matter where you are in your career, you will almost always have less Fans than CasualFans. The FANS buy your tickets, your merch, and they follow you on social media. They are likely to prostelitize for you. In other words, they are going to do a huge part of your marketing work *for you* because as Fans they will tell others about you – they will say things that have weight and truth to them to people that trust them – and that is something that no social media or playlist or live gig can do. They encourage "buy in" from others who are likely to be fans. And they spend money. So, there are the two biggest reasons that this is the moment when rubber hits the road and you get real traction in your career. This step is a paradigm shift in reaction to your career. This is engagement, response, recruitment and support.
Types of Conversations Between Types of Fans
What might you say to a FAN you wouldn't say to a CasualFan? You might thank them more often, you might pitch them more often, you might be a little more assertive than with a casual fan because you can apply some real structure to this relationship. And that's what it is – a relationship. CasualFans are just indications of a potential relationship. Fans become that relationship. And so think of how you speak differently to a casual friend versus a friend. Do you share different things? Do you speak more often? Of course you do. And if you really really like this friend, you might try to cultivate their friendship into a best friend. Same thing goes for the different levels of fans.
Only Fans can become SuperFans, but know this too – some Fans aren't SuperFans for anyone, so don't take it personally when they make a choice. Just make sure you don't lose them – hold them tight – they are your commercial component. And if you don't take good care of this relationship, they could become CasualFans – that's moving back down a step – and that's the wrong direction.
——
Check these out…
Marketing Journey for the Music Industry Part 6: How To Set Marketing Goals
8 Ways To Earn Passive Income As An Independent Musician
What You Need To Know About TV & Radio Royalties
How to Use Content Pillars to Define Your Artist Brand
——
So to summarize Fans, this middle step will with any luck just be a pitstop for some on their way to SuperFans, although we're happy if many Fans stay here too. You will want to spend a tremendous amount of time focused on keeping this landing full by tailoring your interaction with people who have signed up for your email list, who have sent you private messages, who have become a regular face at your shows, and more. Treat them like a friend, not an acquaintance.
They are invested in you, and as such they are your gateway to sustainability – a career you can keep. Once your career spans enough time to include a significant number of releases and gigs, you can begin to message toward the SuperFan (Best Friend Analogy) tier. These types of fans are unlikely if you've only been around a year or maybe two, but it's not impossible. Still, keep your expectations low that this bucket is going to become full quickly and without a lot of focused effort on your part.
SuperFans never miss out on an opportunity – so consider all the bases covered. Every ticket for every local show and often the VIP options at a premium price, most every online purchase imaginable, recruitment and excitement (most street team volunteers are SuperFans), they discuss you with other SuperFans and they expect engagement with you and your team at the highest possible levels. Simply said, there is nothing out of the realm of possibility to ask a SuperFan to do.
Now, let's talk messaging here at the top step. We know how we might talk to an acquaintance in our lives (the CasualFan) and we know how we should invest more time talking to the friends in our lives (Fans), but how do we speak to our BEST friend (the SuperFan). How do you connect with them? How often? What do you share with them that you don't share with others? There's an exclusivitiy here that cannot be denied. And just like your own circle of best friends is probably very, very small, so is the number of fans standing on your SuperFan step.
Taking a step back, how might you transition a Fan to a SuperFan status – and how might you keep a SuperFan where you want them instead of letting them take a step down? It takes effort. It takes communication. It takes unique experiences and events; and because you'll likely have a team of professionals in your career by the time SuperFans are on the scene, you can task them with helping to create an environment where your SuperFans can thrive.
Before we conclude, here's a challenging question:
When a listener says, "I'm so obsessed with this song that I added it to my favorite Spotify playlist …" is that a CasualFan? Or is that a Fan? Is that a SuperFan? Can we even answer that question with just this one piece of information?
Well, no. We can't just take one behavior and classify a fan because only consistent behavior shows us trends and likelihoods. So without at least two behavioral events, we can't establish consistency. And without three events, we can't chart a trend. So, to answer that question, anyone on any of those steps could share that particular bit of information, and you will need to learn how to respond to them even if you don't always know which step they are on.
✨ Pro Tip: Responding with a question that will give you more information will help you to narrow down the category of fan and fine tune your messaging. ✨
Finally, there's no quick and easy way to learn how your fan messaging should be developed without just actually getting into it and paying attention to the responses you receive. Nuance won't happen overnight, but it will happen. And I can't guarantee you won't make a mistake now and then, but I can assure you that if you apply these techniques over time, your fan base will grow much faster than if you don't.

Other Stories You May Like