It's undeniable that TikTok has given many up and coming artists a chance at major exposure with its algorithm. As long as your music is on TikTok for you (and other creators) to use, you have the chance to promote yourself through challenges, trends and so much more. If you're ready to promote your music on TikTok, here's everything you need to know.
How To Use TikTok To Promote Your Music
First things first…
Before you can start anything, you have to upload your music to TikTok.
Back in 2019, we announced our partnership with TikTok which allows our clients to deliver their tracks onto TikTok for its millions of creators to use in their videos. This offers an amazing opportunity for our clients to spread their music through one of the most popular apps in the world, with us to guide them along.
In the meantime, think about what part of your track has the most potential for going viral. — That means 15 seconds of catchy, groovy greatness that you can imagine people singing or dancing along to. Don't be afraid to dig into your back catalog to find songs that truly fit the bill. Oftentimes when one song goes viral, it may bring some of your other songs right up with it.
Hop On TikTok Trends
Every week, something new is trending on TikTok. Hell, it seems like something new has taken the platform by storm almost every day. Even if a trending challenge doesn't necessary align with your brand, it's still useful to get involved. If an unrelated video of yours goes viral, it may bring your other posts along for the ride.
Hopping on the latest trend is a great way to get seen by more people and blow up the engagement on your present and past posts. Whether you're on the hunt for audio, effect or hashtag trends, there are tons of ways to find what's popping off on TikTok. // To help you out, we wrote a whole post that gives you all the sneaky tips and tricks we know about how to find what's trending.
Post Music Video Sneak Peeks
While you're working on that new music video, take behind-the-scenes clips during the process. Even better, you can tease final cuts of the video by posting them as a Reel before the launch date. You can do this by using captions like, "Coming Soon… 👀" with the launch date worked in. You can even link to Spotify for presaves, YouTube premieres, or wherever else they can find your music once it comes out.
Create Your Own Challenges & Trends
If you want to go viral on TikTok, you're going to have to get creative. The most popular challenges and trends on TikTok are lip syncing,  dance routines and comedy type videos. That's why it's important to have songs on TikTok that are catchy enough to support these type of challenges.
Need some ideas?
If you hate dancing, you can tell your fans to create their own dances to your song and tag you on TikTok.
If you have a song with amazing lyrics, do a VoiceOver of you lip syncing along with the lyrics on screen.
Want fan engagement? Tell your audience to do covers of your song and repost them when they do.
Want to collaborate with others? Try the Duet, Stitch and Collaboration features.
Just how tagging other creatives can double your video's reach, so can collaborations. Finding your niche is important in anything you do, as it helps engage a more loyal audience and helps you secure yourself in a more manageable, less saturated space. — Be sure to comment, like, share, duet, other artist's work and encourage your followers/viewers to do the same.
In my opinion, Doechii is one of the best at this on TikTok. Her popular and very addicting song, "What It Is (Block Boy)" has tons of people creating their own videos to her track showing off their dance skills, as well as their love for her track.
Try Covers Of Your Song in Different Styles
One of my favorite trends that musicians like to do on TikTok is when they give new life to an existing song by creating new versions of it you would have never expected. For example, those videos captioned: "If my song, [blank] was a metal song" or "If my song, [song here] was an EDM banger". As an artist, you have many strengths you can leverage when creating content. If you're low-key really good at making beats, show off that talent with a cover. If you aren't so good at another genre, you can ask your audience to do their own version.
Use The Right Hashtags
Hashtags are important on pretty much every platform. With the right hashtag strategy, you can increase the reach, engagement and visibility of your posts on TikTok in no time. Luckily, figuring out which hashtags will work best is fairly simple.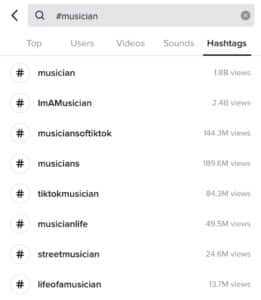 First, go ahead and open the app, tap on the "Discover" tab on the bottom of your screen and scroll through the previews of all the trending hashtags.
Now, let's dive a little deeper. In the search bar at the top, go ahead and search whatever hashtags are relevant to you. Once you hit search, you'll be able to see related hashtags and view counts for each of them.
With a quick Google search, you'll see that the most popular hashtags for musicians are: #music, #singer, #artist, #songwriter, #livemusic, #newmusic, and the list goes on and on.
However, these are just the most popular, overall hashtags. If you're looking for more interactive engagement with a more segmented fanbase, we recommend looking into artists like you on the platform and checking out the hashtags that are popular in their circles. Then, you can make a solid list of these and keep them in mind for your own efforts.
Try TikTok's Promote Feature
With Promote, you can turn any organic TikTok video into an ad, right from the app. You can start reaching new audiences, build a following, and drive traffic to your business website. Once you run a Promote campaign, you also get insights into your audience and how your videos are performing to help you improve your efforts moving forward.
We wrote a whole post that breaks down exactly how to do this; you can check that out right here.
Utilize TikTok Analytics
Driven by machine learning and a technical algorithm, TikTok thrives on data and metrics. If you want to improve your content's performance, understanding your profile's detailed analytics is the first step to improving your efforts. With it, your data-filled dashboard is separated into three main categories: Overview, Content and Followers.
By clicking through each tab, you'll be able to see videos views, profile views, follower count, and follow demographics in terms of gender and geography. With this information, you can see which videos are working and which aren't. Then, you can adapt your strategy as you go to improve in the future.
Not sure how to find them? Check out, "Where to Find Detailed Analytics for TikTok" to learn all the different ways to access these analytics.
In Conclusion…
Aside from being an addicting past time for most of us, TikTok is also a wonderful tool for your promotional efforts as an artist. If you work with the algorithm and all the features the platform has to offer, you'll see your content start to thrive.
On that note… As you reach a wider audience on TikTok, you can funnel those users over to your socials and streaming platforms in the process. By taking steps like adding links to other platforms in your bio, cross promoting content on your feed and following the tips mentioned above, you can grow your audience everywhere in no time.
Good luck!

Other Stories You May Like