If you're a musician and lover of TikTok, this one's for you. They've just launched a new hub to promote new music called #NewMusic, found right from the search bar. Here's everything you need to know about it.
TikTok Launches #NewMusic Hub for New Music Releases
Here's the rundown…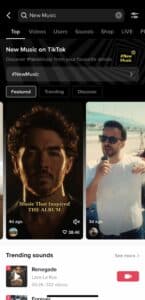 Many of us find our favorite new artists and songs on TikTok already, and the #NewMusic hub brings together all the new releases from new and established artists on TikTok, all in one easy to find place on the app. To find it, all you have to do is "new music" into the search bar, and you can find all the best new music on the app.
Why use it?
Now, artists like you will have a much easier time sharing their newest work on TikTok, making it even easier to connect with new fans from all over the world. Just use the hashtag, share your stuff, and start connecting on TikTok today.
Good luck!

Other Stories You May Like