The road of a creative can be a lonely one at times… but it doesn't have to be. Collaborating with other musicians is one of the most fun parts of being an artist. With it, you get to learn new things, experience new music, grow your fanbase and so much more. In this post, we'll give you 6 undeniable ways collaborating with other musicians can benefit you as an artist. Here's the rundown…
6 Benefits of Collaborating with Other Musicians
Diversify Your Style
One of the best ways to get out of your comfort zone and sharpen your skills is to work with others. When it comes to collabing with other artists, their creative energy mixed with yours is bound to create something truly unique. Don't feel obligated to only reach out to other artists within the exact same genre as you either. Any artist you admire is on the table, as long as they're down!
To clarify, I'm not saying that you metal vocalists need to join forces with the Christian gospel singers, but consider working with artists just outside your genre to really expand your mind.
For example: If you are known for classic house music, consider working with a drum and bass producer to really spice up your next track. You could even bring in an RnB singer to do some vocals for it. You never know what badass magic may come from all your specialties combined into one. ✨
Expand Your Reach
Collaborating with other artists is a great way to expand your reach into their community and vice versa. You get to share your music with all their fans while your fans get to discover your new collab partner's music as well. It's the perfect way to cross-promote your music and discover a whole new world of fans who may have never found. you otherwise.
In the meantime, we've done a ton of posts on how to grow your following and reach more fans online. If you want some juicy tips and tricks, check these out…
Credibility
If you collab with an artist who is more widely known than you are, you get the chance to prove yourself to a huge audience that already loves and respects the person you're working with. Fans have a unique sense of trust with the artists they follow, so if they tell them you're awesome too, they're going to give you a more solid chance to show your stuff. In addition to gaining the love of new fans, it also helps prove to show promoters and booking agents you have what it takes to roll with the big dogs and hold your own.
Social Media Exposure
The collab doesn't end with just making the song… keep the teamwork going as you hype up the track on socials before release day. As you both spread the word, your fans online will hopefully do the same and double your efforts. Just think about all the pre-saves you've been able to garner on your own for past releases, and imagine how many you can get with another artist working alongside you.
As they say, teamwork makes the dream work. 😉
Live Performances
Collabing with other people gives you the chance to bring them up on stage with you to perform your tracks together, and they may feature you on some of their own show dates, too.  Not to mention with both your names on the lineup, both your fans are sure to show out.
Creative Growth
As you work with other musicians throughout your career, you may notice small pieces of them sticking with you as you evolve as an artist. Treat every experience with them as a learning experience. You may learn new production tricks, get inspired by their creative freedom, or find yourself latching onto parts of their sound that really resonated with you. Whatever they teach you, these collaborations help you grow as a creative in this industry.
Let them inspire you to try new things, step out of your comfort zone, and hone your craft to its highest degree.
Some final notes…
When it comes to finding your next collab partner, you can start locally with other musicians within your community by reaching out via DM's on socials, making connections at live events, networking at conferences, joining Facebook Groups and more. Here at Symphonic, we even have our own Facebook Groups (which you can click below to check them out) where you can find like-minded people who are also on the hunt for the perfect collab and chat with them.
One for U.S. folks: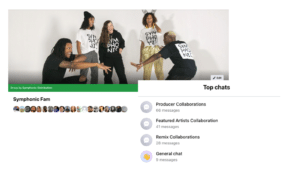 and one for our Latin fam: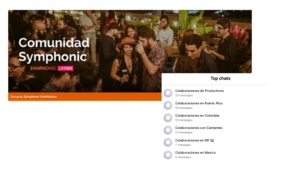 But what if your dream collab buddy lives in another state? Or even another country?
Doesn't change a thing! If COVID times taught us anything, it's that almost everything can be done virtually. There are tons of innovative online tools and platforms to help you work together on your next banger without ever having to meet in person. Whether you need a vocalist, producer, guitarist or sound engineer, this post gives you tons of ways to connect with creatives from all over the world.
All from the comfort of your home… in your PJ's… with a dog (or cat) on your lap.

Other Stories You May Like