Thinking about traveling to beautiful Bogotá, Colombia for their annual Bogotá Music Market Conference? Great idea! Here's everything you need to know before you go…
What To Know Before Attending Bogotá Music Market Conference
What To Expect
Date: September 11th to 15th, 2023
Location: Venue Cámara de Comercio de Bogotá
If you attend the conference, you'll experience:
BOmm Talks // An academic space where outstanding international professionals of the sector will share their experiences, knowledge and predictions about the music industry.
Showcases // Live performances of artists and bands selected by the curators.
Networking // Speed-networking space where entrepreneurs and artists, who were selected by curators to participate, can meet to do business, broaden their database of contacts, meet business owners who dedicate themselves to the same type of business and establish strategic alliances of different kinds.
BOmm Labs // Space for roundtables and workshops with local industry leaders addressing topics such as: Music journalism (what a musician must know to communicate with a journalist), crowdfunding for music, management and more…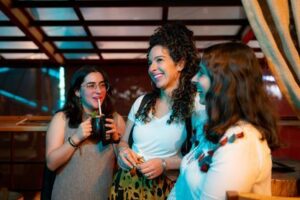 🍷 In addition, we'll be attending a Cocktail Hour on Tuesday, September 12th🍹at Sociedad Colombiana de Ingenieros (Carrera 4 # 10-41) from 1:00 pm to 2:00 pm.
How To Prep
Before the conference, it's important you plan ahead. We recommend making a schedule of the events, workshops and performances you want to attend so you can make the most of your time. In addition, registering early not only secures your spot, but also might get you some benefits or discounts.
When it comes to the conference itself, you'll want to bring all the networking and promotional essentials like your business cards, a notebook, pen, some merch items if you have 'em, demo CDs, or whatever else you think will help you make a lasting impression and perform your best.
BOmm typically hosts many workshops, panels and masterclasses with industry experts you don't want to miss. Try to attend as many as you can, and take notes you can look back on later. After the conference, make sure to follow up with all the cool people you connected with via email or socials. Speaking of socials, it won't hurt to post about your experience and engage with other attendees who're posting about it too. The more connections you make, the better.
Tips For Visiting Bogotá
Bogotá is situated at a high altitude (around 2,600 meters or 8,500 feet above sea level). If you're not accustomed to high altitudes, take it easy for the first day or two to acclimate to the thinner air.
Embrace the weather! Bogotá's weather can be very unpredictable, so prepare for anything from sudden temperature changes to occasional rain.
While public transportation in Bogotá is improving, we recommend using secure transportation options like official taxis or ride-hailing services (You can either call one or use apps such as Tappsi and EasyTaxi). No matter what, always avoid unmarked taxis.
Last but not least, eat all the delicious food your heart desires. 😉 (Especially some Ajiaco, Arepas, Pan de Bono and so much more…)
Want to meet up with us at the conference?
[Fill out this meeting request form right here]
To learn more about the conference, click here.
See you there!
🇨🇴

Other Stories You May Like