Thinking of hitting up Americana Fest in Nashville this year? If it's your first time, don't stress! Here's a rundown of everything you need to know before you go. Check out the fest, hit up our event, and meet the cool people who keep the music playing. Here's the rundown…
Everything You Need To Know Before Attending Americana Fest
What To Expect
Date: September 19th to 23rd, 2023
Location: Nashville, TN
The 23nd annual AMERICANAFEST will take place September 19-23, gathering thousands of artists, fans, and industry professionals from all over the world in Nashville, TN. This year promises to once again be the must-attend event for anyone who loves the melting pot of Americana's influences including roots, folk, country, blues and soul-based music.
Each year, this fest brings together legendary artists, the next generation of rising stars, fans, and industry professionals for multiple days of music and education through panels, seminars, performances and so much more. In addition to these, some of our very own Symphonic artists will also be performing at various stages during the event:
… and more!
How To Prep
Before the conference, it's important you plan ahead. We recommend making a schedule of the events, workshops and performances you want to attend so you can make the most of your time. When it comes to the conference itself, you'll want to bring all the networking and promotional essentials like your business cards, a notebook, pen, some merch items if you have 'em, demo CDs, or whatever else you think will help you make a lasting impression and perform your best.
This event typically hosts many workshops, panels and masterclasses with industry experts you don't want to miss. Try to attend as many as you can, and take notes you can look back on later. After the conference, make sure to follow up with all the cool people you connected with via email or socials. Speaking of socials, it won't hurt to post about your experience and engage with other attendees who're posting about it too. The more connections you make, the better.
Buy Your Passes // View Full Artist Lineup  // View Official Daily Schedule
//
Americana Open House: Bloodies & Mimosas 🥂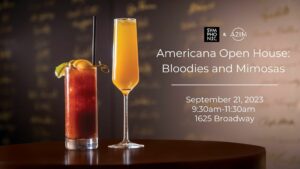 We're opening the doors to our Nashville office for an exciting event, Americana Open House: Bloodies & Mimosas! Grab a drink, chat about Americana Fest, share fun stories, and catch up with our Sym Fam under one badass roof. Located in the historic Orbison building just steps off of Music Row, come meet the folks who keep the music playing. 🎶🍹// Check out the official event page right here.
We hope you can join us…  It's gonna be an open-house you won't want to miss!

Other Stories You May Like