Looking to improve your music marketing game? No problem. In this post, we'll give you some of our favorite tools for badass marketing that are easy to use and won't break the bank. Here's the rundown…
8 Music Marketing Tools Every Independent Musician Should Use
SubmitHub
SubmitHub is a great platform to submit your music to blogs, playlists, and YouTube channels for potential features. With this platform, you can get your music reviewed and promoted by 1,900+ quality-checked Spotify playlisters, music bloggers, and influencers. Not to mention, more than 900,000 artists, publicists and labels have used SubmitHub to get their music heard. It's a must-try for musicians of any level.
HubSpot CMS Hub
Hubspot does everything from marketing and sales management to analytics, lead generation, email marketing and so much more. It offers a wide range of tools and features that independent musicians like you can use to enhance your online presence, engage with fans, and manage your music career more effectively.
For example, musicians can use Hubspot to do things like:
Create and send newsletters, updates, and promotional emails to your fan base.
Schedule and publish posts across various social media platforms, including Facebook, Instagram, Twitter, and LinkedIn.
 Monitor and engage with your audience on social media, reply to comments, and track the performance of your posts.
Keep detailed records of your fan base, including their preferences and engagement history.
Personalize your communications with fans based on their past interactions and interests.
And these are just some of the things it can help you with. However, it's important to note that the features vary depending on which subscription plan you opt in for, and the platform does take some getting used to if you've never tried it before. The Starter plan is $25 a month, and offers some great features for those looking to keep costs down.
Spotify for Artists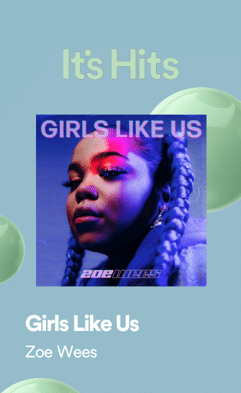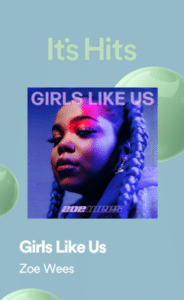 If you aren't using all the wonderful features Spotify for Artists has to offer already… get with the program! With it, you can promote your music by submitting songs for playlist consideration and getting featured in personalized playlists like Release Radar and Discover Weekly. You can access detailed analytics to understand your audience and track song performance to help you plan strategically. You can even find potential collaborators by exploring similar artists and their audiences and link to your merch store from your Spotify profile.
One of my favorite features Spotify for Artists has to offer are Promo Cards. With this feature, you can create custom assets for yoursongs, albums, and artist profile to share on socials.
And for you songwriters out there, Spotify recently announced a version of this specifically for you, Songwriter Promo Cards, so you can also get the well-deserved promo and recognition you deserve.
Canva
With Canva, you can design album covers, social media graphics, event flyers and merchandise without breaking a sweat. Not only is it easy, it looks great, too. You can craft engaging social media content, create lyric videos, and even design email headers for newsletters. It's versatile, collaborative, and offers resources and tutorials specific to musicians, making it a go-to platform for visually enhancing your music marketing strategy. If you decide to get Canva Pro, you can access even more advanced features and get a broader array of design options.
Amplify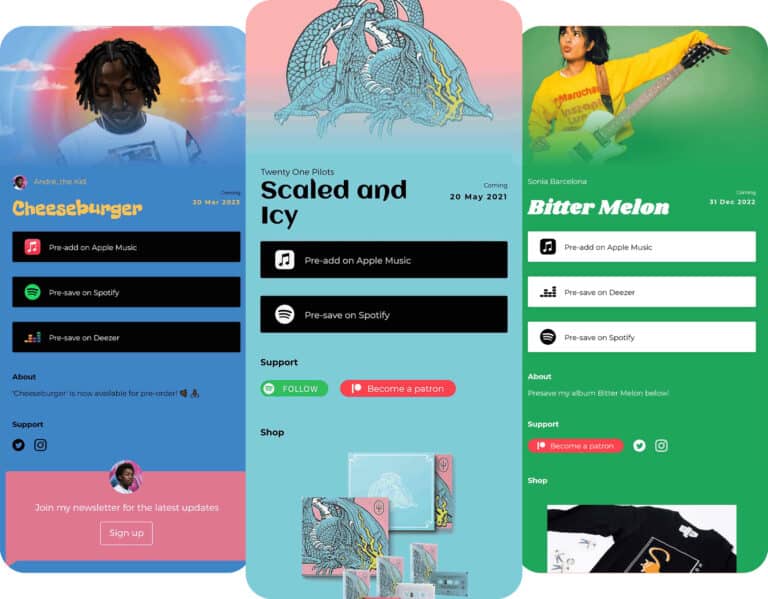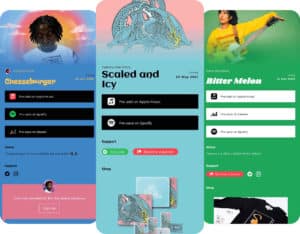 Amplify is an awesome platform that lets musicians promote their music with creative link pages that truly represents them. Their smart links, pre-saves, bio links and more are all seamlessly designed to make an impact on your audience.
They offer a variety of page types to help you share whatever you have going on with ease, including:
Release Page: Link to your music and content across all streaming platforms and elsewhere on the web.
Pre-Save: Hype up your fans for new releases and preload your launch day success.
Bio Link: This is your stage. Easily add your latest releases, merch, socials, videos, links, and more.
Event: Sell tickets to your event or tour. Link to any provider, and enrich your page with media, embeds, shop, email capture and more.
Reward: Reward your fans for joining your email list, following you or subscribing to your content.
Chartmetric
Chartmetric is an OG which gives you a bit of everything from every platform. With it, you get analytics and data from Spotify, Apple, Shazam, YouTube, Amazon, Deezer, Radio, SoundCloud, TikTok, Wikipedia, Instagram, Facebook, Twitter, Beatport, and more all in one place. Depending on if you utilize their Free or all-access Premium tier, you can get whatever you need depending on what's most important to you. With Chartmetric, you can also do additional things like:
Track current and historical playlist adds on Spotify, Apple Music, Deezer, Amazon Music, and YouTube.
Understand who your audience is and where they are in the world with audience demographics.
Global Digital Artist Ranking with Cross-Platform Performance (CPP), their proprietary global digital artist ranking that lets you measure artist performance across 16 streaming and social media platforms and metrics.
SoundCloud Promote
Promote is a self-serve tool on SoundCloud that lets you choose targeting options (like age, gender, location, device or genre) to get your music in front of the audience you want on their Stream and mobile homepage. Targeting a release can benefit you in many ways. For example, if you'd like to build the hype for your new song in an upcoming city on your tour route before the day comes.
To do this, all you have to do is:
Name your promotion
Select one of your public, monetizing tracks
Decide if you want to use Simple or Advanced targeting
Pick a budget for how much you'd like to spend
Select your start and end date for the promotion
Choose the audience you want to reach
Check availability and add to your cart.
Easy as that!
SymphonicMS
If you're a Symphonic client, you already know how cool our SMS is. Our Symphonic Management System has tons of features available for our clients to make their lives easier every day. Some of which include access to things like detailed analytics from Apple Music, Spotify, Beatport, & more, revenue summaries by partner, artist, and release, and additional details to help you plan your marketing strategy with strong data to back you up.
To wrap it all up…
At the end of the day, you're going to need more than one helpful tool in your music marketing arsenal. Whether you utilize one of these or all of them, they're bound to improve your strategy a little at a time. In addition, one of the best things you can do as the industry evolves is stay up to date with new features and updates as they emerge. An easy way to do that is by signing up for our Symphonic Newsletter where we share the latest industry news, tips and more every week, straight to your inbox. 😉
In the meantime, good luck!

Other Stories You May Like