Back in 2020, Instagram launched their Subscriptions feature. With it, you can earn consistent income by offering exclusive content and benefits to your most engaged followers at a monthly fee. These subscribers not only get exclusive content, but also the opportunity to connect with you on a deeper level through a plethora of unique features. In this post, we'll give you a couple new ones to try out. Here's everything we know…
How To Grow Stronger Connections With Subscribers on Instagram
Note: Subscriptions is available to creators who meet the eligibility criteria.– Click here to see if you're eligible.
If you meet these criteria, you can go ahead and enable this feature by following these steps:
In your professional dashboard, tap Set up subscriptions.
Tap Next.
Agree to terms and then tap Next.
Select your monthly price and then tap Next.
Tap Publish and then Create.
Once you're enabled, your followers will see a notification in their activity feed and on your profile so they can subscribe to you. Easy peasy.
Now that that's covered, let's dive in to some features.
Subscriber Chats
With Subscriber Chats, you can add up to 30 people to connect and mingle with you through Messenger. This chat only lasts 24 hours, and you can let your fans ask whatever they want to know, share thoughtful comments, or even ask for advice. All you have to do is use the "join chat" sticker on your story and your subscribers can tap to join.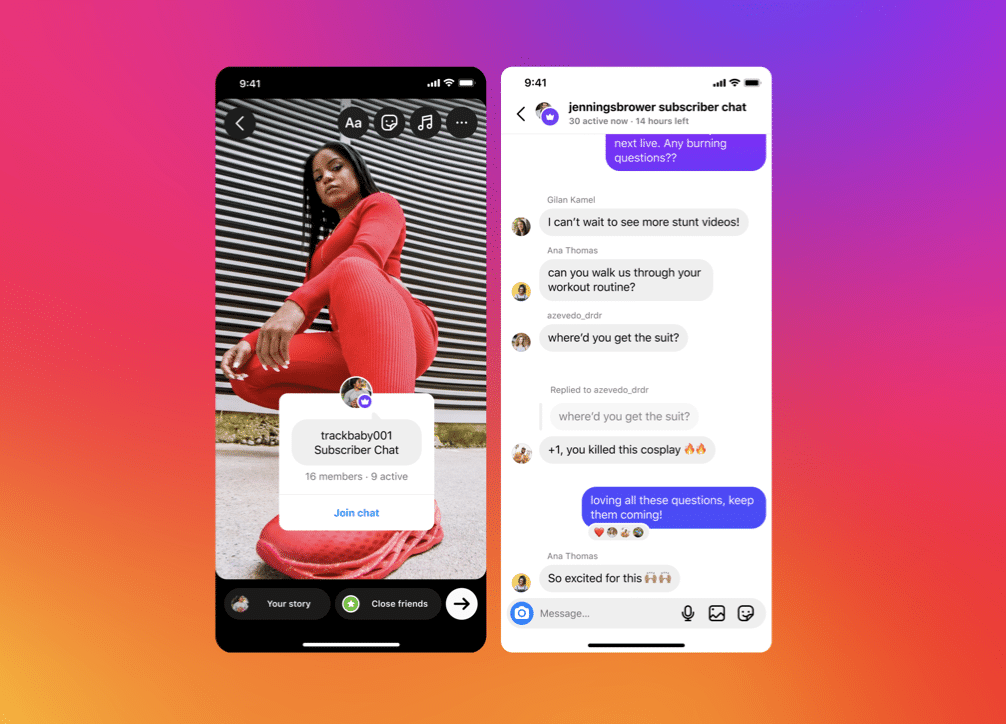 Exclusive Posts & Reels
Exclusive Lives and Stories let your fans engage in the moment, but what if they want to come back and admire your work later? Having content exist on your profile is an important part of building community on Instagram. With that in mind, they've implemented exclusive content as posts and reels so your fans can come back and engage at any time on your profile.
——
🧠 Feed yo' brain…
Top Productivity Tools For Independent Musicians
6 Ways To Nurture Your Instagram Following
8 Best Advertising Practices To Improve Your Instagram Ad Performance
——
Exclusive Tab
Another great feature is the Exclusive Tab right on your profile. This is a dedicated tab on your profile to save all that exclusive content like subscriber lives, feed posts, and Reels. This gives your subscribers a hub to find everything in one easy access spot.
What else can you do?
At the end of the day, your fans love you for you. You need to show them your appreciation for being loyal to you and supporting your journey. That means replying to comments, doing shout outs, or even doing a quick welcome to new subscribers every week. These fans who subscribe to you are paying to be a part of your community. With them in mind, you need to offer a consistent flow of content so they know exactly when to join in and look forward to what's to come.
Your fans believe in you and want to see you succeed. Let that belief in you drive you to aim for greater heights, try new things, and push yourself to go beyond what you ever thought possible back when you were a wee baby artist in your childhood bedroom. With a strong community behind you, there's nothing you can't do.
Good luck!

Other Stories You May Like