Spotify is constantly evolving to encompass features built to help artists like you grow their brand and streamline their workflows. Last week, they announced new features like Clips, Canvas, Countdown Pages and more. In this post, we'll break down these features among a few more you don't want to miss. Here's everything you need to know…
5 Spotify Features You Should Be Taking Advantage of as an Artist
Clips
We've all seen the success of short form content nowadays, and Clips brings that success to Spotify for artists like you to take advantage of. Clips are short, under 30-second vertical videos to help you focus on the music and keep your content all in one place on Spotify. With it, you can hype up an upcoming release, promote an album or single, share stories about your music and influence fans to go deeper into what you have to offer.
Clips are uploaded directly to through Spotify for Artists and are attached to your artist profile. You can even tag Clips to your new track or album so fans can check it out right there.
Canvas
This one isn't brand new, but it's become the new age of album artwork. This is that visual, looping visual that you can add to each of your releases on Spotify that plays while users listen.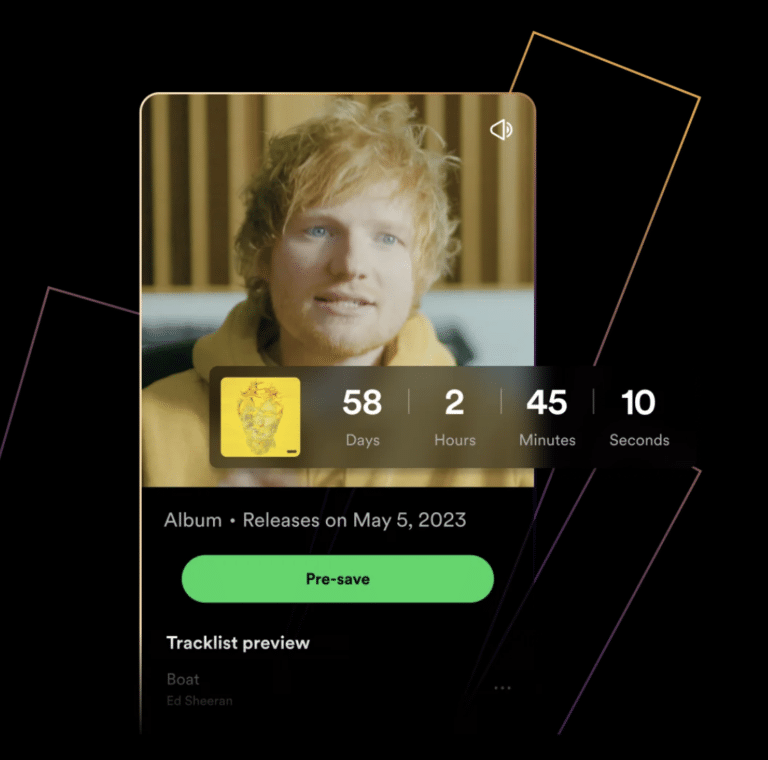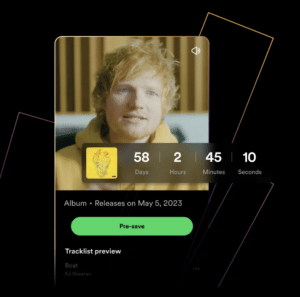 Countdown Pages
With Countdown Pages, your fans can pre-save your upcoming release, preview the track list, pre-order new merch, watch video Clips you share with them, and watch the timer count down to the moment your release goes live. Their research has shown that 80% of pre-savers end up streaming the new release within the first week.
Marquee
Familiar with pop-up ads? — This is a version of those you actually won't hate.
Marquee is a full-screen, sponsored recommendation of your new release to Spotify Free and Premium listeners who have shown interest in your music and have the potential to listen more. Although this isn't a new tool, many of our artists don't take advantage of this great feature!
When the Marquee pops up, listeners are nudged to check out your newest release and explore. That means:
You can market your music in a purely musical environment.
No need to waste ad spend in cluttered spaces.
Track exactly how your listeners engage with the release after seeing the Marquee.
Discovery Mode
With Discovery Mode, artists and labels can identify songs that are a priority for them, and Spotify's system will add that signal to the algorithms that determine personalized listening sessions. Essentially, this increases the chances of those selected songs being recommended to listeners. Now, this doesn't guarantee your music is going to be pushed over anyone else. All is does it take into consideration is if listeners are engaging with your songs or not and how to recommend better material for them in the future.
Want to learn more?
👀 Check these out…

Other Stories You May Like