If you want to make sure you and your music are getting as much exposure as possible online, your SEO strategy can make or break your efforts. In this post, Dayna Young (Founder of Fred & Augustus, FANDA, and music marketer of 10+ years) gives the ultimate SEO rundown every musician needs to hear…
The Basics of SEO for Musicians
What is SEO?
Search Engine Optimization or, "SEO" for short. This fancy acronym is defined as "the process of maximizing the number of visitors to a particular website by ensuring that the site appears high on the list of results returned by a search engine."
Simply put, for musicians, this means optimizing how you appear in search results so that you can grow both your online presence and revenue, and the number one reason you want to optimize your online presence is for your fans. After all, it is your fans who will search for you, your music, music videos, merch, and tour dates online.
When each fan does so, they'll be at a different stage of their fan journey.
Fan Journey
A fan journey is the path that fans take between discovering you and becoming advocates for your brand. Perhaps they just read an interview about you, and now they want to search for and listen to the song mentioned. That's the discovery phase; you'll want to ensure you have an artist profile on all streaming sites. Perhaps they are in the exploration stage and want to watch the music video for the song they just listened to—do you have a YouTube profile?
At every stage of the fan journey, your fans are looking for varying degrees of detail and information, and it's entirely within your power to curate their search experience.
What can you do?
The first step in any SEO project, whether for musicians or otherwise, is keyword research. To best structure your website, content, and online presence, you need to know what people are searching for about your artist brand. This means conducting research into your personal artist keywords, building a master list of those keywords, and then applying those keywords to your online strategy. (Don't worry, we'll address keyword research in a later section.)
We know that to be found online, you need a presence on key platforms. The most obvious and important place to start is with your own, branded URL and website. We cover how to build a functional website in this book, but for now, it's important to know that an artist's website is a key tool in engaging fans during the exploration, retention, purchase, and advocacy stages.
An artist website should draw fans further into your unique story. The essentials you need are a website with strong visual imagery, links to your music and social icons, and an email subscriber capture form. However in order to really engage and delight fans your website should also include music listening and video watch tools, your biography, your e-commerce store or fan club, tour dates—all displayed within an aesthetically appealing design.
However, your online presence extends beyond your website and across multiple platforms. In addition to your website, these platforms include social media, video, streaming, tour or ticketing sites, and your e-commerce presence.
Together your website and these platforms help infer information about you as an artist, and they are returned in searches fans conduct when they want to know more about you.
 Here's what a simple search for the artist Dillon Francis using the phrase "Dillon Francis" returns…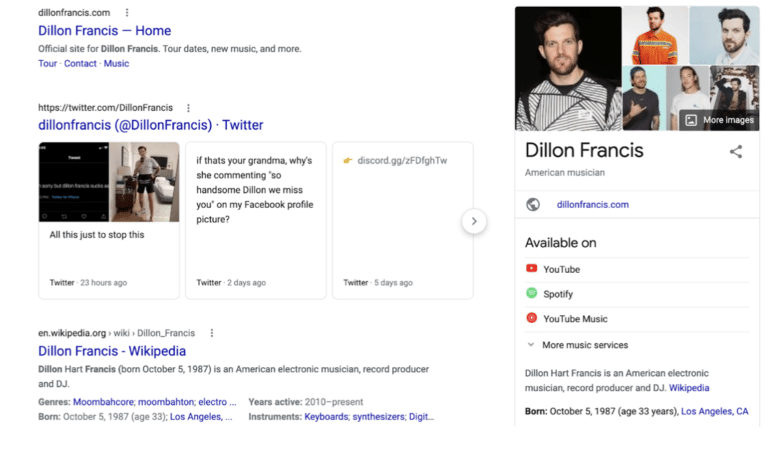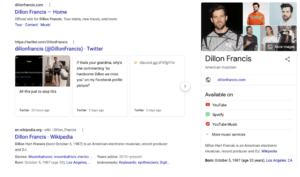 You can see his website is shared first. Key social networks, streaming sites, and Wikipedia are all also referenced, allowing a potential fan to dig deep into more information about the artist. Alongside a website that's both functional and branded, you should also build profiles on these other key platforms.
For example: we can see that Dillon Francis has a presence on YouTube, Spotify and Twitter, as well as his own Wikipedia page. This information is useful for a fan in the 'discovery' stage because they can hear a song, and if they enjoy it search for more information, moving further along into the 'exploration' stage by reading Dillon's tweets or watching one of his music videos on YouTube.
Let's look however at how the search results change when the term "Dillon Francis tour dates" (a search term more aligned with the retention stage) is entered into Google….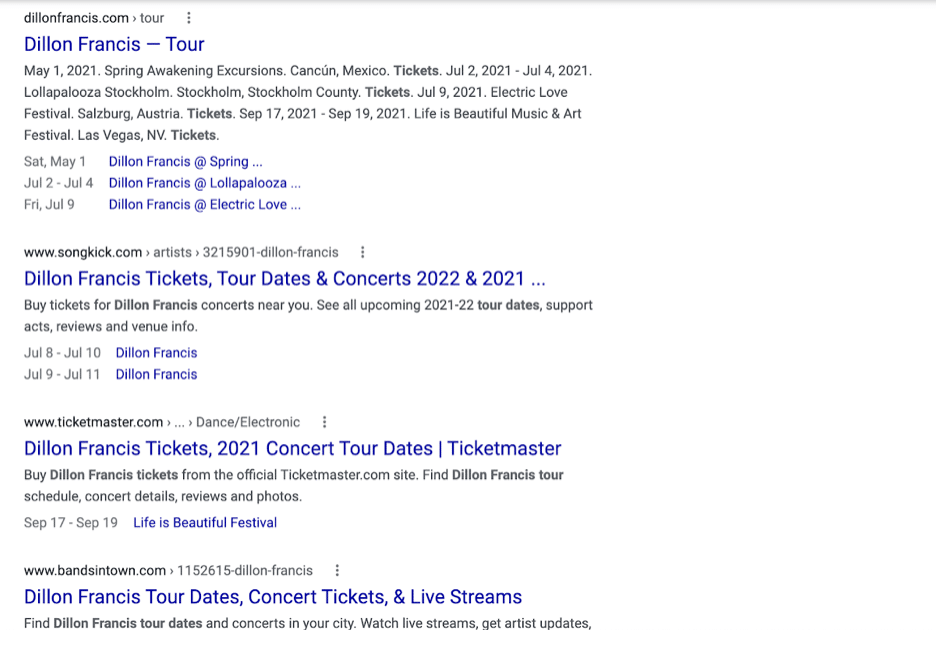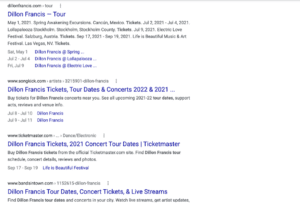 You can see above how the search results returned focus specifically on tour dates, pulling in information from additional platforms that Dillon has registered a presence on such as Songkick and Bandsintown.
This means that in addition to your branded website, you also need to ensure you have a branded and active presence on key streaming sites, social platforms, touring and ticketing platforms, retailers, and engagement tools (like Genius). Not only does this help fans find information about you, but it also sends important signals to the search engines about what you do, who you are, and how many fans are searching for information about you.
An SEO presence at the 'purchase' level via e-commerce becomes all the more important because, ideally, your fans will make not just one, but repeat purchases. However, in order to do that, they need to be able to purchase your products easily and quickly, without roadblocks.
Here's an example…
Now this is a great example of how Dillon Francis has crafted his purchase-level SEO to the extent that he's provided multiple options for fans to purchase from them. He's done this by ensuring that fans can easily find tour dates and concert tickets, where to buy music (both in download and physical formats) and merch, links to their streaming profiles, and other places where they can make money from an online purchase.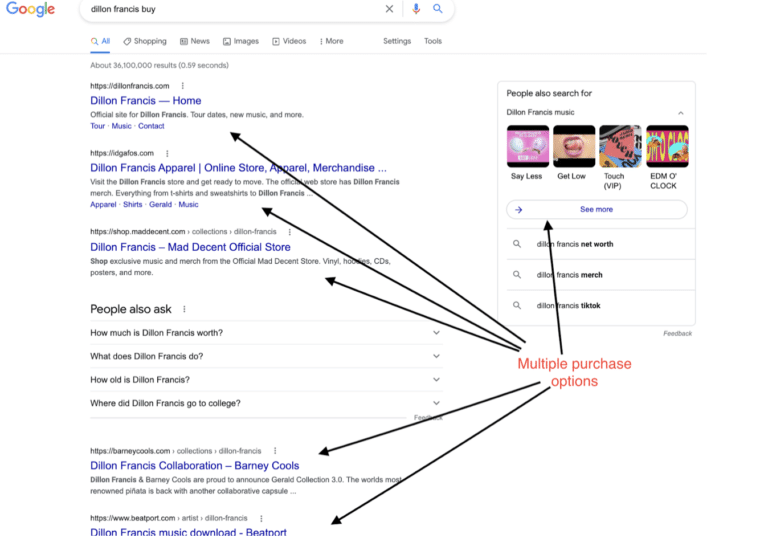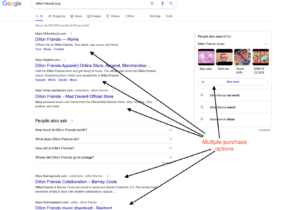 Google likes to see that you not only have a broad online presence but that you also have one in the communities it feels are most relevant: your own. Ensure that, where possible, you have established a Google My Business profile, a brand account, a Wikipedia entry, and a branded YouTube account, and most importantly, that all of the information on these platforms links back to your website.
Once you have strong foundational SEO in place and you maintain the integrity of the information on those platforms, SEO actively works in the background from there. It helps you avoid getting lost in the noise by bringing fans to your website, music, content, or product offerings, and it does this without you needing to actively promote yourself. Making sure you can find your fans online is incredibly important, but making sure they can find you is priceless.
Keywords
Keywords are the words or phrases that fans use to search for your band online. There are three groups of keyword types:
Short-tail keywords: "Lady Gaga tour"
Medium-tail keywords: "Lady Gaga show Los Angeles" or
Long-tail keywords: "Is Lady Gaga playing a show in Los Angeles near me soon?"
You can break these keyword groups down into two main categories.
The first are keywords that can be used to build a brand. These are keywords that include your name, a song lyric, your band members' names, album names, tour names, etc. An example of a branded keyword search might be "David Bowie's Ziggy Stardust era."
The other category is non-branded keywords, which typically don't include anything specific to your project name, band members, or the music you play. For example, if you're a heavy metal band in Hollywood, California, a relevant non-brand keyword might be the search term "heavy metal bands near me" or "heavy metal bands in greater Los Angeles." This said, non-branded keywords usually won't be useful to artists, unless you're the type of entity that targets and plays performances at corporate gigs, weddings, and other community-focused events.
How to Research your Keywords
Firstly, create a spreadsheet, which you'll use for sifting through the keyword suggestions. You'll add what makes sense (based on larger search volumes or more immediate relevance to your project) to your spreadsheet. This process can take some time, and you might need to try different combinations yourself to really dig deep and find the best keywords.
There are a number of tools available for your keyword research. Some of the best places to start are Google AdWords Keyword Planner, TubeBuddy Tool for YouTube, Free keyword tracker, Google Trends, or even a simple Google search will give you results.
To wrap it all up…
Obviously, it makes sense to Google your potential artist or band name before you commit to it. In much the same way you'd research whether a company name is taken and if the domains exist for that entity, you should do the same with your potential project name.
Of course, there are circumstances in which a conflict might be unavoidable. For example, when you have a common name like Mike Johnson or when your band name includes the name of something famous or common phrases, In these circumstances, it will be even more important that you build your SEO ecosystem, research and implement your keywords, create an aesthetically pleasing and functional website, and implement SEO, voice search, and more to cement yourself in such a grand landscape. But with these tips, you're on the right track.
Good luck!

Other Stories You May Like